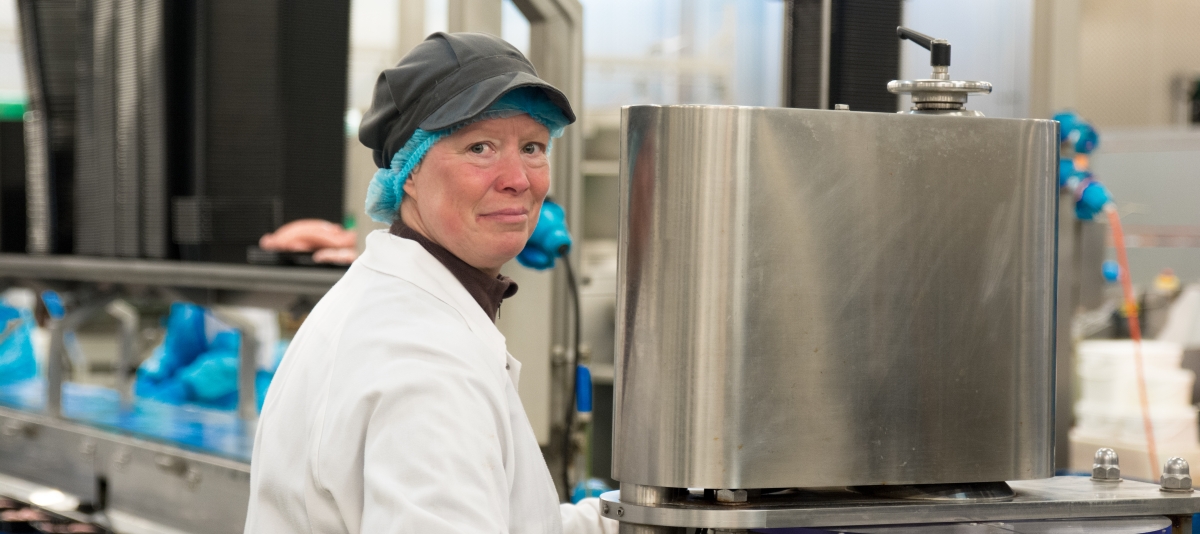 Wednesday, 17 November, 2021
Corinne - Assistant line manager
Seeing our products on the retailers' shelves the next day guarantees the freshness our customers want.
A new week, and a new colleague to interview: introducing Corinne Billet, an employee from Moeskroen who works as an assistant line manager at our Westvers Division. The ice melted quickly between us, because Corinne and I share the same hobby: photography! Fortunately, her critical eye was able to approve her portrait photograph. 
Corinne, what does an assistant line manage do exactly?
As an assistant line manager, I am responsible for ensuring that our products reach the shops in perfect order. That means that I have to check the prices on the labels, the gas content, shelf life data, and the content and visual presentation of the trays. I am not responsible for a specific line, but perform inspections on whatever lines are necessary.
Did you start as an assistant line manager straight away?
No, when I started here eight years ago I was initially hired as a packaging assistant. After a few promotions I became an assistant line manager, and then a line manager. You can easily recognize the line managers in the production hall by our caps: assistant line managers wear grey caps, and line managers wear maroon caps.
How fresh are the products when they reach the shops?
Let's take our beef skewers as an example. This is one of the six different skewers we produce. The meat is cut and marinated early in the morning at the Case Ready department. It is delivered to us at around 9 o'clock in the morning. We ensure that it is put on a skewer, together with the sweet peppers, after which the kebabs are packaged and labelled. The truck is ready at 2 p.m. to take the skewers to the distribution centres. The distribution centres then deliver all the goods to ensure that the products will reach the shops on the same day. Production on day 1 will be on the retail shelves on day 2: it can't get any fresher than this! And when you see the products that you helped create on your supermarket shelf, you certainly feel proud!
The weather this weekend will be great, Corinne! Do you have any idea how many hours are scheduled for making skewers?
Lots, I think.
That's true, 17 hours for today, but fortunately this is distributed over the various lines. Lots of people will be sure to enjoy our yummy skewers this weekend!